Overview
A rapid rise in malicious cyber activity and several well-publicized incidents at academic centers led UCSF leadership to determine that a thorough review of our data management and data sharing practices was necessary to ensure the appropriate protection of our data assets.
At the Chancellor's request, a task force of research, technology, and operational leaders across the University reviewed how we share data with external partners and created a set of recommendations.
What to expect
New contracts that propose data sharing with external entities are being closely reviewed by UCSF's five authorized contracting units. Data sharing agreements that meet any of the criteria below will be escalated by the contracting unit to the IT Governance Committee on Enterprise Information and Analytics (EIA) for evaluation.
High-level process workflow
Escalation criteria
Data sharing engagements are escalated for review by the IT Governance Committee on Enterprise Information & Analytics. View the escalation criteria.
Task Force recommendations
Based on its findings, the task force has created a set of interim and longer-term recommendations across contracting, technology, security, and data access areas that will help inform process change going forward.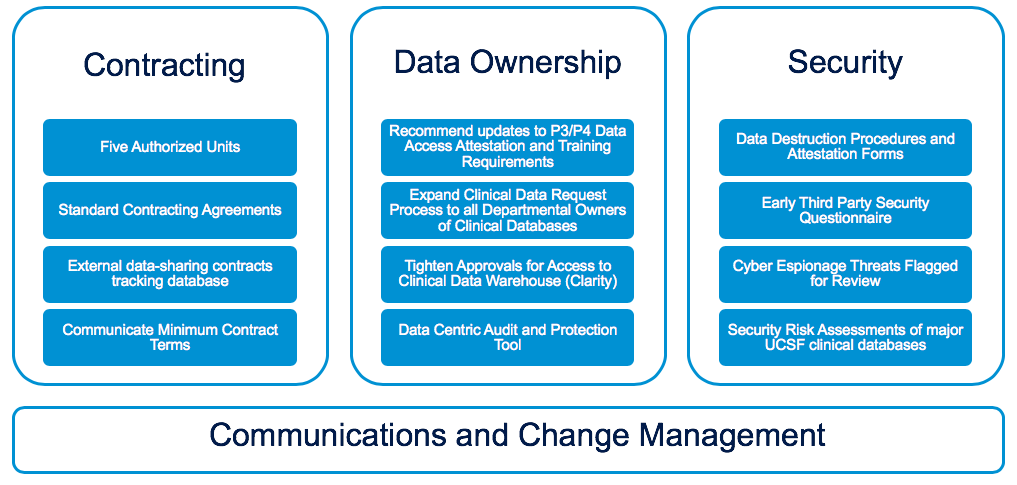 Questions & feedback
We want to hear from you and welcome your questions.
General project questions: 

[email protected]

.
In-process contract questions: email your specific contract specialist.
If you might enter into a data sharing agreement but do not have a formal contract in place, contact one of these five UCSF authorized contracting units. (Identify the most appropriate Data Sharing Contracting Unit.)
Resources & FAQs
If you have questions about sharing de-identified data to meet funder and publisher requirements, please review the guidance on the new page Sharing De-identified Data for Publication.
Questions? 
Contact us: [email protected]