Many access paths, one point of entry
Need help or guidance? Do you need data with identifiers like birth dates or medical record numbers? Want to make sure you are compliant with regulations? Your first hour of consultation is free. Make sure you head in the right direction.
UCSF electronic medical record data: What's available for research?
UCSF electronic medical record (EMR) data:
Plus additional data, such as:
There's a big difference between "identified" and "de-identified" data. And, a lot of acronyms!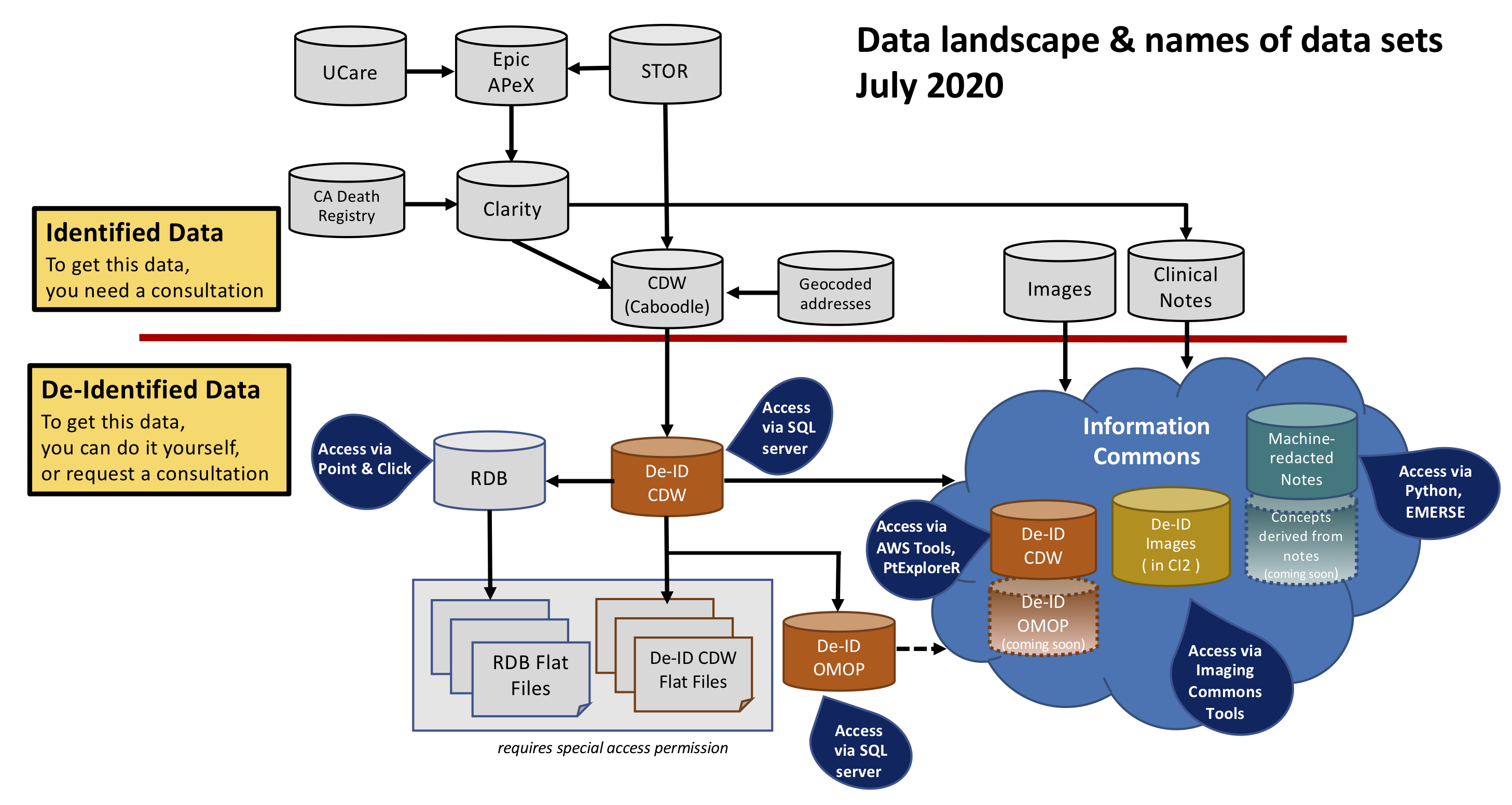 Comparing de-identified data
Research Data Browser (RDB)

De-identified Clinical Data Warehouse

(De-ID CDW)

Information Commons AWS Cluster

Includes De-identified Data from APex:

Demographics
Encounters
Diagnosis
Medications
Labs
Procedures
Flowsheets
Vital status from CA Death Registry
Refreshed monthly

Does not require IRB approval
Point & click interface available
Will be replaced by De-ID CDW and decommissioned in 2020*
Additional data, including:

Financial data
Utilization data
Historical STOR data

Data based on RDB data

De-ID CDW coming soon 

Plus:

Images**
Clinical notes**
Concepts extracted from notes **

Flat Files available - large file size, need analytics tool skills for queries
Berkeley Spark based
 
Access via SQL server
In cloud (AWS)
Ability to use your own preferred programming language with flat files
Need SQL, Python or R skills
Useful for getting patient counts
Suited for high speed queries & data mining
Learn more and access
Learn more and access
Learn more and access

** Requires IRB approval currently, but de-identified versions are coming.
First time User? Request access to Research Data and Tools 
Not sure what option is best for your project? Request a free brief consultation for advice.
Request identified clinical data; you need a consultation
Identified data is provided by consultation only. The first hour of your consultation is free!
The consultant will help you define a data specification. The APeX Pick List (Excel 26MB, download from UCSF Box) is a helpful tool for this work - see more information below.