The Self-service Analytics Team is a group of multiple teams working together to meet the goals and objectives of the Self-service Analytics Program. 
Here's how we work together.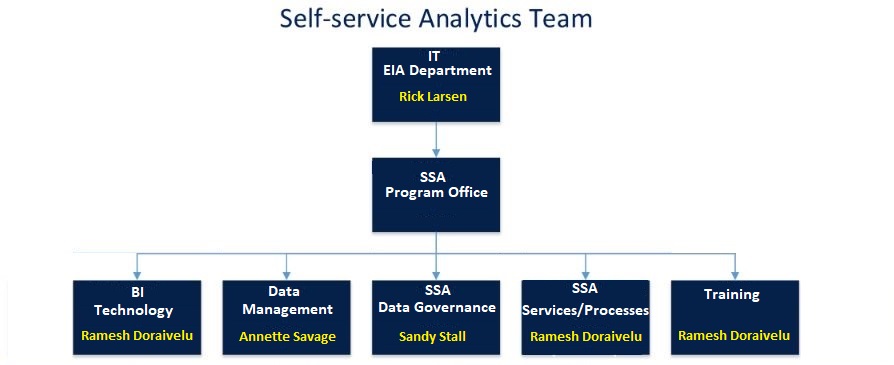 The Program Team
The Program team is primarily based out of the IT Enterprise Information and Analytics (IT EIA) department, including:
Program Office led by SSA Team
BI Technology Team
Data Management Team
Data Governance Team
Services and Process Team
Training Team
IT Enterprise Information and Analytics
The IT EIA department is charged with running the SSA Program. It has responsibility for assembling the SSA Program Team and the day-to-day oversight of the Program.
Program Office
The Program Office works closely with the program sponsors, EIA Steering Committee and IT EIA to set program direction and scope, and coordinates the activities of all SSA Program teams.
Ensure program activities are planned and coordinated. Report program progress and health to executive sponsors and EIA Steering Committee
Define and oversee processes to address and manage program issues and risks and escalate items to the IT EIA, executive sponsors and EIA Steering Committee
BI Technology
The BI Technology team manages and maintains the Tableau Server and Desktop developer infrastructure, and ensures that it is up to date, and has high availability and performance. Responsibilities include: 
Ensure the Tableau infrastructure conforms to UCSF security standards and that appropriate access controls are in place
Work with the SSA Services and Processes Team to develop end-user facing BI services and processes
Understand the SSA program stakeholder groups and develop communication strategies to keep the stakeholder groups informed of SSA activities
Perform outreach to departments and other groups to inform them about the SSA initiative 
Oversee the design and buildout of the SSA portion of the data.ucsf.edu website 
Data Management
The Data Management team oversees the process for making data available to the Tableau platform. Responsibilities include:     
Manage and maintain the data repository used by the Tableau infrastructure, and ensure that it is up to date and has high availability and performance
Ensure the data infrastructure conforms to UCSF security standards and that appropriate data access controls are in place
Maintain the searchable D&A Catalog that helps end users find and understand data needed to create their analyses/dashboards
Work with the SSA Services and Processes Team to develop end-user facing SSA data services and processes
SSA Data Governance
The SSA Data Governance team ensures that the data within the Tableau platform has gone through the appropriate data governance oversight and review. Responsibilities include:
Oversee the process of governing data assets, measures/metrics and dashboards for the Program
Work closely with mission-focused D&A governance groups on data priorities and governance
Work with the SSA Services and Processes Team to develop end-user facing SSA Data Governance services and processes
Develop standards and templates that support SSA data governance
Educate SSA end users on data governance requirements and processes
SSA Services and Processes
The SSA Service and Processes team develops and maintains a set of end-user and technical processes needed to operate and use the Tableau platform. Responsibilities include:
Work with the SSA End User Advisory team and other SSA Program teams to develop a cohesive and well-documented set of SSA services and processes
Work with SSA teams to implement agreed-upon SSA services and processes
Coordinate with the IT ServiceNow team to automate SSA processes
Training
The Training team develops and distributes the SSA training programs that equip Tableau users with the skills needed for their self-service analytics role. Responsibilities include:
Work with other SSA Program teams to identify and define SSA roles 
Develop role-based training plans for Tableau functionality and the SSA processes